KW Sharp is the leading authority in the waste, wastewater, and street industry
KW Sharp has distinguished itself with a tradition of quality products and reliable service. We are a leading municipal supply warehouse offering a wide range of products and services.
With over 100 years of combined employee experience, KW Sharp has a unique tradition of trusted quality service that has been attributed to the commitment of every employee. Our business is both local and Texas owned. The KW family takes pride in providing superior products and service with the number one priority of customer satisfaction.
KW Sharp Services
24 hour emergency service available
Diagnostics and Chlorination of water systems
Quik Valve – valve insertion 4″ to 8″
(under pressure)
Inserta valve 10″ to 12″
Water taps 3/4″ to 12″
(under pressure)
Hot tap service 3/4″ to 12″
Line stops 3/4″ and above
Meter installation and testing
Quick one day delivery service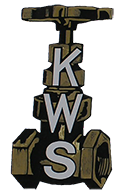 For almost 40 years KW Sharp has provided quality parts and services for our customers. Our knowledgeable and friendly staff work hard to ensure that you get the best products at the best price possible. We have what it takes to supply your sewer and water needs.
We carry a large inventory on hand and offer quick one day delivery. We can supply a full line of fire hydrants, large diameter valves, meters, pipe, pipe fittings and much more. Plus we offer quality service and installation.
You can trust KW Sharp to solve all of your water and wastewater needs.
At KW Sharp our primary goal is customer satisfaction.
We distribute these quality product brands